Bus and Truck Drivers
Drivers usually drive under tense conditions. They should primarily focus on ways to control aggressiveness:

BUS AND TRUCK DRIVERS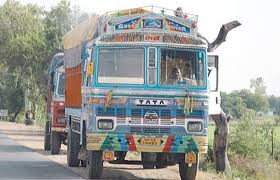 Buses and Trucks fall under the category of heavy vehicle. They should be driven on the extreme left, speed governors are mandatory for them and the maximum speed limit for buses and trucks is 40 KMPH. Buses and trucks can never overtake any other vehicle. Bus drivers should drive their buses along the bus lane and should stop the buses inside the bus box that is drawn near the bus stops. Other buses that are coming behind and are destined to stop at this bus stop should stop behind the first bus in a line and wait for their turn. Under no circumstances can the latter bus stand parallel to the former bus or overtake it.
Guidelines for Bus and Truck Drivers regarding towing and loading :
You must not tow more than your license permits you to.
You must not overload your vehicle or trailer. You should not tow a weight greater than that recommended by the manufacturer of your vehicle.
You must secure your load and it must not stick out dangerously.
You should properly distribute the weight in your caravan or trailer with heavy items mainly over the axle(s) and ensure a downward load on the tow ball. This should avoid the possibility of swerving or snaking and going out of control. If this does happen, ease off the accelerator and reduce speed gently to regain control.