​Welcome to West Bengal Traffic Police
Message from Shri Supratim Sarkar, IPS ADG, Traffic & Road Safety, West Bengal
​​ The problem of traffic management has emerged as one of the most important challenges before the P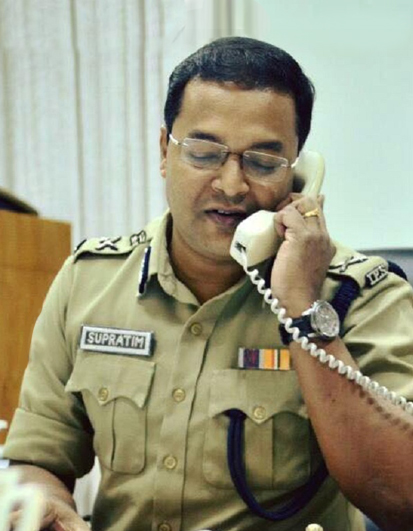 olice all over the country. The evergrowing population with phenomenal growth in the number of vehicles coupled with poor road infrastructure is making the job of traffic management all the more difficult. As per the available figures one road accident takes place in the country every minute, and one road accident death every four minute. The analysis of road accidents in terms of causative factors reveals that drivers' fault is the single most important factor for the road traffic accidents. Drivers' fault accounted for 36.17% of total accidents, 34.2% of the total persons killed and 39.8% of the total number of persons injured in road traffic accidents in the year 2020.
The Police play an important role in respect of traffic regulation and enforcement of traffic laws, traffic safety awareness and quick response and relief to the traffic accident victims. Therefore, there is an urgent need for improvement of traffic police infrastructure in....
Dos and Dont's
Blue circle instructs what should be done.

Dos :-
Walk on any side of the road if there are footpaths.
Use Zebra Crossing, Foot Overbridge & Subways to cross the roads.
Cross the road when the vehicles are at a safe distance.
Wear light coloured dresses during night.
Avoid busy roads.
Keep a safe distance from fast motorised vehicles.
Give proper indications before stopping or turning.
Always wear helmet/seatbelt.
Always wear your seat belt.
Follow the speed limits.
Plan your route out in advance for visiting Durga Puja for long car trips and keep a map.
Red circle instructs what should not be done.

Don'ts :-
Don't cross the road hastily by running.
Don't jump over the railings to cross the road.
Don't ride holding on to other fast moving vehicle.
Play your car stereo so loudly that you are disruptive to others, or so loudly that you are unable to hear train signals or emergency vehicle sirens.
Drink and drive, and don't get in a car with a driver who has been drinking or using drugs.
Talk on your cell phone and drive at the same time. If you need to make or answer a telephone
call while you are driving, pull over at a safe place, use the phone, and then resume your
journey.
Use ear phone while you crossing the road.
Leave valuables in your car, especially in places where they can be seen, no matter where you are parked.